A T-Bone accident can result in a multitude of injuries, including serious head trauma and fatalities.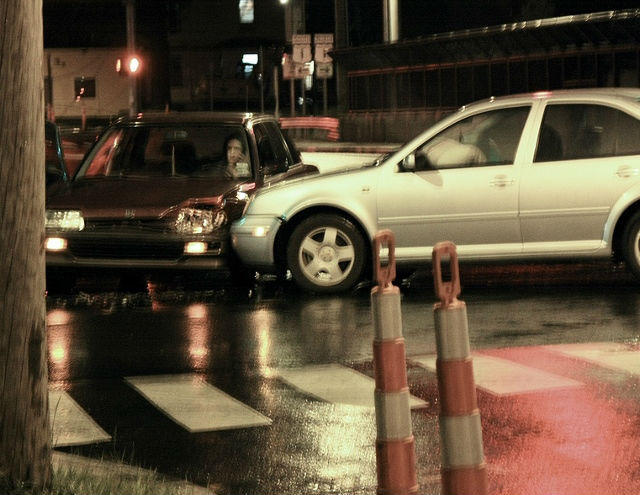 A T-bone car accident is when a car is struck at a perpendicular angle. This type of crash can cause a multitude of injuries, including serious head trauma and fatalities. If you have recently been injured in a T-bone crash caused by a negligent driver, contact a St. Louis car accident attorney immediately. There is a good chance that your medical treatment will be lengthy and costly; begin pursuing compensation as soon as possible.
Fatality Rate for T-Bone Collisions
Compared with head-on and rear-end collisions, the fatality rate for broadside collisions is much higher. The reason for this is simple. There is very little protection offered by the doors of your vehicle compared with the distance between you and the force of impact in other types of collisions. Add to this the increasing number of large SUV's on the road, and the number of serious injuries and deaths from a T-bone accident rise even higher.
The most common cause of a broadside collision is a driver's failure to yield for a red light. Busy intersections are often the scene of these deadly accidents as a car careens through passing traffic until colliding with the side of another.
Case Study – Severe Injuries Suffered Resulting From T-Bone Collision
A St. Louis driver suffered a severe back injury after being T-boned at an intersection. The defense in this case chose to settle for $1 million during mediation proceedings rather than go to trial. This is typical in this type of crash as the defense recognizes the negligence of running a red light and how vulnerable their client would be to punitive damages if a jury were to rule on the case.
The severity of the impact of a T-bone accident could cause a number of injuries for the driver or passenger injured in the crash. Head, brain, and back injuries are common as are neck injury, chest and torso injuries, and fractures to the pelvis and femur. Head trauma has become a bigger concern in recent years as the size of SUV's makes the point of impact higher than if the car were to be struck by another passenger vehicle.
Protecting Yourself and Your Passengers
To help protect yourself and your passengers, look for a car that has the following safety features:
Side curtain airbags – This provides protection to your head in the event of an accident and have become standard on all cars.
Torso airbags – These are placed lower than the side curtain airbags. These protect your chest and midriff in the event that your car is struck on the side.
There is little you can do to avoid the negligence of a driver other than making sure your car is as safe as possible and always watching for oncoming cars before entering an intersection. If you are involved in a T-bone accident, call The Hoffmann Law Firm, L.L.C. at (314) 361-4242. We will review the details of your accident and help you determine if you should pursue compensation for the injuries that you have sustained.